National Western Stock Show Parade, Denver, CO
---
St. Patty's Day Parade, Denver, CO
---
Memorial Day Parade, Commerce City, CO
---
Salida FibArk Parade, Salida, CO
---
Brush 4th of July Parade, Brush, CO
---
Buffalo Bill Days Parade, Golden, CO
---
Carnation Days Parade, Wheat Ridge, CO
Wheat Ridge Parade: Timeline and Staging Instructions
Wheat Ridge Parade: Rules & General Instructions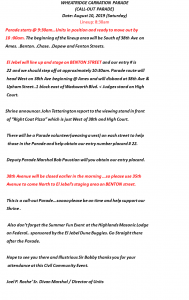 ---
Arvada Harvest Festival Parade, Arvada,  CO; Arvada Harvest Festival Parade 2019 Instructions
Arvada Harvest Festival Parade Information
Arvada Harvest Festival Parade Rules
The 2019 Arvada Harvest Festival Parade will start at 9am on Saturday, September 7th.  You will need to arrive at your staging location between 7:00 and 7:30 am.  The Arvada Police Department will begin road closures at 7am and are intending to be completed by 7:30 am.  Closures include (but are not limited to) Ralston Road, from Independence to Allison St.  Please try to limit your number of vehicles, and carpool if possible.
Your staging information for El Jebel Shriner's Denver Colorado is # 25 and your approximate streets to line up are Arvada Presbyterian
NOTICE IF YOU ARE STREET SIDE OR CURB SIDE . . We had to double up this year
If your staging is between Allison & Carr your check in point is Balsam St, there will be someone there.
If your staging is between Carr & Estes your check in point is Dover St, there will be someone there.
If your staging is between Estes & Garrison your check in point is Field St, there will be someone there.
If your staging is between Garrison & 56th your check in point is 56th Pl, there will be someone there.
Large Vehicles will enter from Independence and go to your staging location.
 Band Directors should have received a copy of your arrival time and warm-up location sheet and the location of your buses at the end of the Parade route.
Our theme this year is "Arvada Frontier Days", there is big cash prizes awaiting the winners!  Focus on ENTERTAINING the crowd!  Please remember to place your LARGE staging number on your entry an 8 1/2 x 11 paper works well.  We cannot judge your entry without a number. The parade competition categories are listed on the website (arvadaharvestfestivalparade.com), along with the prize monies. Winners will be announced at the Arvada Harvest Festival on Saturday 9/8 at 3pm at the Main Stage along the midway, please have a representative from your entry present.
  We would like to remind you of our MOST IMPORTANT RULES:
11.  ABSOLUTELY NO THROWING HANDOUTS TO THE CROWD.  Handouts of any kind must be passed hand-to-hand from parade walkers to spectators at the curbside.  Please consider bringing candy, or some other little trinket to hand out – KIDS LOVE IT!  (Plan for at least 1,000 units of your handout.)
25. Parade units violating any of these rules, at the discretion of the festival executive committee, parade chair or event coordinator will not be judged and may be removed from the parade. This disqualification may also result in the suspension of future participation.
Please remember to be kind to our stagers – the team who helps everyone get into their correct position.  This is a great group of volunteers – and we would have nothing but mass chaos without their help.  Be sure and THANK them whenever possible.
It's going to be another great Parade, and we are looking forward to seeing you!
Joel Roche
Marshal
__________________________________________________________________________________
Veterans Day Parade, Denver, CO  Veterans Day Parade Route 2019